Officially certified tour guides take you to discover the most authentic side of the Eternal City.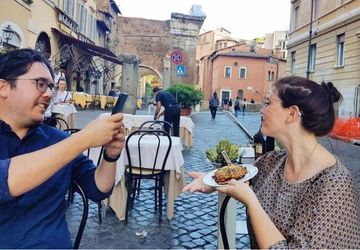 An original and fun way to discover and taste Rome
Imagine a feast of flavors as you walk through the center of Rome. Enjoy this original itinerant lunch or dinner that brings you to eat deliciously as you discover emblematic landmarks of the Eternal City.
Hand in hand with a local expert, you will make several pit stops in places awarded by the most prestigious international gastronomic critique and shops that are part of the history of the city. Just like generations of Romans, you will enjoy the taste of their specialties as we toast with delicious Italian wine.
We will make a tasting in an authentic "cheese boutique" to appreciate the differences between cow, goat and sheep cheese. But if your strong suit is cold cuts, get ready! We will visit a shop that has become a legend: a family-owned centennial place that hand makes all their products. Absolutely delicious!
Pizza? Yes, of course, Roman style. Now you'll know why it is different from Neapolitan pizza. Pasta? Yes, the most typical one, comfortably sitting and with a good glass of wine overlooking a famous piazza. Here, you will learn about typical recipes, and the difference between trattoria, osteria, and ristorante.
Join us and learn all about the typical dishes of our city, eat like a real DOC Roman, and take home all the tips about where and what to eat in Rome.
Includes:
-02 Roman specialties
-Cheese tasting (3 types)
-Cold cuts tasting (9 types)
-Pasta from Gragnano with typical sauce
-Gelato
-03 glasses of wine, beer tasting, water
*If you want to book this tour as a private service contact us to get your quotation.
Main entrance of Teatro Marcello (a few meters from Antico Caffè del Teatro di Marcello)
Officially certified guide
With years of experience, passion for art, history and food, our tours in Rome will show you the secrets, curiosities, and beauties of this incredible city.
We will give you all our tips on what to do, what to eat and where to go. You will have everything you need to make your stay in Rome an unforgettable experience.